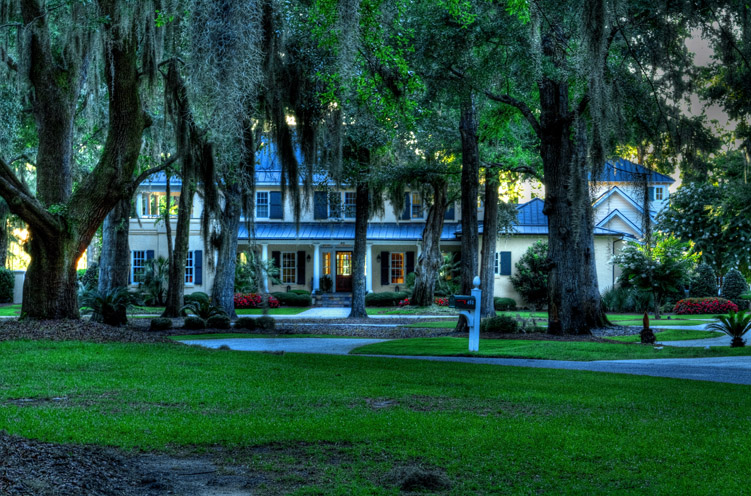 Just south of Pawleys Island, the unique Prince George community is a historically significant pristine tract of 1900 acres in Georgetown County, South Carolina, located on the historic Waccamaw Neck.  This land has been treasured since its earliest inhabitants for its abundant wildlife, its relationship to the marshes, wetlands, river and ocean and for its serene and peaceful forests.  Through thoughtful stewardship and basic respect, these features remain largely intact and undisturbed.  To preserve these characteristics for generations to come, the plan for the Prince George Community calls for only one hundred fifty single family lots, ranging in size from 0.75 acres to over 15 acres.
Prince George's Ocean side is buffered on the north and west by PG Preservation, LLC lands and on the east by the Atlantic Ocean, and adjacent to undeveloped plantations to the south.  Prince George's River side is buffered on the west by the Waccamaw River, on the east by PG Preservation, LLC lands, including an easement for an undisturbed portion of the Old Kings Highway, and adjacent to undeveloped plantations to the south.
The Oceanside amenities include bike paths, nature trails, multiple lakes, an Ocean Clubhouse, swimming pool, tennis, volleyball and basketball courts, and private beach access. The Riverside amenities include a River Clubhouse with sitting area, fireplace, boardwalk and 28 slip marina along the Intracoastal Waterway.
The Prince George Architectural design theme is described as Traditional/Historic Low Country.  Consequently, homes should be built with an unusually high level of quality, stressing understated elegance and quiet dignity.  Distinctive features of this character include building wide overhanging eaves with large porches, operable shutters and painted or weathered siding.
Geography & Weather
---
The Town of Pawleys Island is located just off U.S. Route 17, about 10 miles (16 km) east of Georgetown. The island itself, located at

33°25′47″N

79°07′18″W

, is a little over three miles (5 km) long and about a quarter of a mile wide. To the east-southeast lies the Atlantic Ocean. The island is a sandy barrier, with some dunes on the northern end up to about 15 feet (5 m) high. The southern end is very low. Behind the island is a tidal creek/marsh.
According to the United States Census Bureau, the town has a total area of 1.0 square miles (2.6 km²), of which, 0.7 square miles (1.8 km²) of it is land and 0.3 square miles (0.8 km²) of it (29.29%) is water.
On average, the warmest month is July.The highest recorded temperature was 103°F in 1986. The average coolest month is January. The lowest recorded temperature was 4°F in 1985. The maximum average precipitation occurs in September.